BANCO DE GAIA _ APOLLO (Disco Gecko Recordings)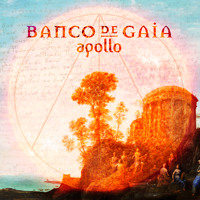 After a long seven year wait, the new
Banco De Gaia
album is now out via all good record shops and download stores.
For the last two and a half decades,
Banco de Gaia
has been consistently redefining world electronic music, with his releases on Planet Dog and Six Degrees making countless rotations around the globe, rousing dancefloors and winning fans along the way. In the process, the Banco name has become iconic: a hallmark and staple of global-influenced, genre-blurring, high production values electronic music.
Apollo
is Banco's first new studio album in 7 years and brings together heavy dub beats, powerful vocal arrays, and lilting melodies, drawing inspiration from both old and new schools of sonic artistry, and in doing so blending the subtle flavours of the act's historical sound with modern day techniques and ideas.
Apollo
opens with the powerful and evocative Lamentations, featuring the ethereal vocals of
Zhenia Mahdi-Nau
, before slipping into Wimble Toot, whose initially stuttering drums and bass build into a relentless rhythm, peppered with reggae style horns and saxophone, nicely setting the scene for the foot stomping, dust raising, dancefloor rousing Eternal Sunshine.
For Such A Time is classic Banco in a 21st Century style, with its ambient pads, crisp hi-hat and dubby bassline providing a welcome respite before the tidal wave of energy and emotion that is Apollon: a bouncy blend of acoustic and electronic sounds weaved together by melodic strings and funky bass. Hu! maintains this momentum, with sultry Mediterranean inspired melodies underpinned by global beats and breaks.
All Sleeping, featuring the legendary flautist
Tim Wheater
, is not just a step down in tempo, but also a step down into another world, a world of dreams, a world of fantasy. Oreia winds us back into consciousness, with sinuous oud, strange counting voices, Balinese chorus and haunting Turkish clarinets. The album ends, as it began, with the engaging voice of
Zhenia Mahdi-Nau
gracing Acquiescence, providing an affirming coda to the very welcome return of Banco De Gaia.
You can preview the album at
http://soundcloud.com/bancodegaia/apollo-album-preview-mix
To buy direct from the artist, please go to
http://bancodegaia.bandcamp.com/album/apollo
Otherwise available via iTunes, Amazon, Beatport, Juno Download, eMusic and many more.
Feedback so far:
"Absolutely brilliant album, mixing old Banco with new. Some pounding tracks and of course multi layer percussion that he does so well. The ambient tracks are amazing, and reminiscent of Dead Can Dance."
Charles Massey / Perpetual Loop / Digital Duvet
"Apollo ...Pure dreamy magic! Beautifully hypnotic and soothing as well as playful at times."
Philippa Glazer : 1Giantleap.tv
"Being made up of 9 brand new tracks, Apollo touches on the usual BDG bases of ambient, dance and world styles, and fans of past albums such as 'Farewell Ferengistan' will welcome Apollo's vibes of tranquillity, contemplation and a healthy dose of funk."
Gideon Thomas, Core Magazine
http://www.coremagonline.com/reviews/banco-de-gaia-apollo-review.html
"It's yer global-ethno-electronic-trancey-ambient-dancefloor music innit."
fRoots Magazine (the idiots!)
:: Banco de Gaia album launch Gigs ::
12 April : The Zu Studios : Lewes
13 April : Inspiral Cafe : Camden
Greetings from Disco Gecko Recordings
xx
....................................................................
WANT TO RECEIVE NOTICIES OF ALL THE HOTTEST RELEASES AND EVENTS IN YOUR INBOX?
Please subscribe to our new mailinglist to keep recieving these mails:
http://www.triskele-trance.com/subscribe.html
Prefer it ONLY in FACEBOOK ??
www.facebook.com/triskelemanagement
*Interested in a Marketing & PR Campaign for YOUR label or event?
Contact
Robin@triskelemanagement.com
for a discussion and a quote for a campaign tailored to YOUR needs. For statistics and previous references please see
http://www.triskelemanagement.com/triskele_promo.html