►►►►Welcome Psy Trance Lovers ◄◄◄◄
Firstly thanks to everyone that attended the last Cohesion,
It was really fab guys, you rocked it hard!!
Saturday 3rd April 2010
10pm till 10am
Club 414,
414 Coldharbour Lane, Brixton, SW9 8LF
London/UK
Cohesion Psy Trance Party Is proud to present:
◄◄◄◄BRAINCELL LIVE!!! ►►►►
○○○○○○○○○○○○○○○○○○○○○○○○○○○○○○○○○○○○○○○○○○○○○○○○○
►Braincell (Live) (GER / SWZ)
www.braincell-studios.net
www.free-spiritrecords.com
www.myspace.com/braincellstudio

►James Compressor
www.myspace.com/compressoruk
www.twenty4seven.cc

►Prozak
www.myspace.com/djprozakuk
www.free-spiritrecords.com
www.djprozak.org.uk

►Sati
www.djsati.com
www.free-spiritrecords.com
www.myspace.com/_sati_

►Miguel
www.myspace.com/manthedj

►Spindrift
www.myspace.com/djseanspindrift
○○○○○○○○○○○○○○○○○○○○○○○○○○○○○○○○○○○○○○○○○○○○○○○○○
£8 before 12 / £12 after
£5 if names are text'd or emailed by 6pm Sat 3rd April
text info: 07956472558
email: cohesionparty@googlemail.com
web: http://www.myspace.com/cohesionparty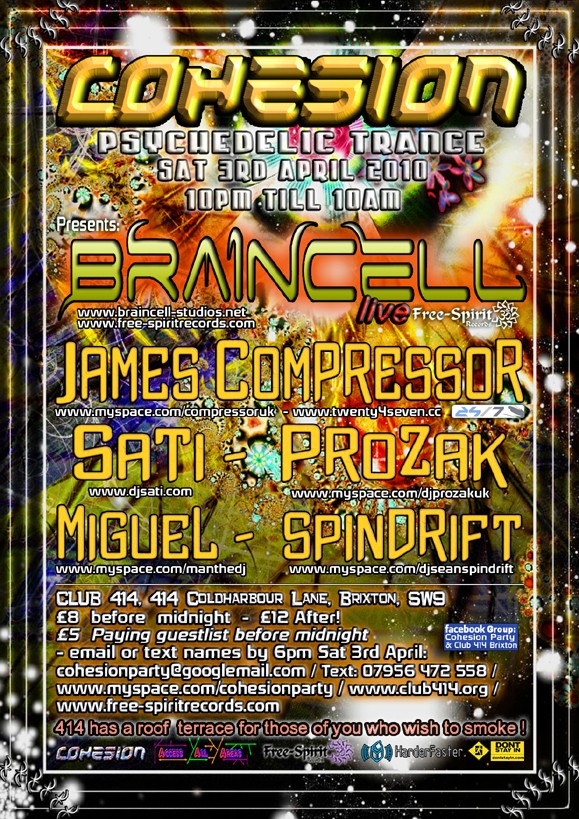 ○○○○○○○○○○○○○○○○○○○○○○○○○○○○○○○○○○○○○○○○○○○○○○○○○
★★★★★★ BRAINCELL★★★★★
BRAINCELL is a solo project of Switzerland based Producer Ralph K. Ralph has been developing his unique style over the last few years and has built a great reputation around the world with his psychedelic, twisting leads and full-on driven beats. Starting in 1994 as a producer and DJ he founded the project RASTALIENS together with his friend Jay. The latest album "Back on earth" was releases on Phar Psyde Records in 2007. More info about RASTALIENS you can find on their website
www.rastaliens.com
In 2003, when he moved to Switzerland with his wife, he decided to start his own project BRAINCELL. The first album "Universal Language" was released on Glowing Flame Records in 2005, which was followed by an impressive string of releases on various compilations and labels. In 2007 the second album "Transformation of reality" came out and the 3rd album "Frequency Evolution" will be released in September 2008 on Glowing Flame Records. To date he has played on every major continent in countries like USA, Brazil, Australia, Italy, Germany, UK, Greece, etc. and received much praise for his energetic and emotional live shows and DJ Sets. Since 2007 Ralph is also producing tracks under the project name SOLAR SPECTRUM, which represents the more progressive side of his creativity. The debut album of SOLAR SPECTRUM is coming this year on Free Freak Records as well with already two releases on Glowing Flame Records and Free Freak Records. More info you can find online:
www.braincell-studios.net
/www.solarspectrum.ch.......................... Also I work as a Mastering engineer with my partner Paul McCosh from the Fractal Glider. Together, in 2007, we started the online sound mastering business Bodhi Mastering.
www.bodhimastering.com
★★★★★ James Compressor ★★★★★
Born in Australia, James England started playing the drums when he was 13. Later picking up the bass, guitar and keyboards, he played in many metal, nu metal and electro industrial bands in which he was also lead vocalist. Having a general grasp of all things musical, at 16 James also began DJing and producing. He now spins under the names of James England, James Compressor and Esion — in addition to his live Compressor act — and can be found almost every weekend behind the decks somewhere in the world doing his part to smash it up. .................................................. .................................................. ............ Over the years the Compressor project has created a unique sound encompassing all full power elements of trance, as well as incorporating influences from various other music styles, including drum and bass, electro, hip hop, and industrial. Indeed, the Compressor sound is a mixture of all modern electronic genres with original funky, pumping bass lines and toe-stomping energy. Having built a solid name as a DJ coming up from the London underground, Compressor is now considered one of the most up and coming psy trance acts around. .................................................. .................................................. ............. Under the Compressor name, James has had several releases on Transient (UK), EtnicaNet (Italy/Spain), Twenty4Seven recs (Austria) Yellow Sunshine Explosion recordings, including the sell-out Compressor vs Materia 'Dual Resonance' five-track CD on Twenty4Seven. Currently involved in side projects with Digital Talk, Marcello VOR and Materia to name a few, James is also working on the first Compressor album to be released some time in 2009 — and if recent dancefloor anthems 'Ratio Dividers', 'Violeria' and 'Relativity' are anything to go by, it's going to knock the psy trance scene sideways.
★★★★★ SATI ★★★★★
Has been playing in and around the London scene for the past 3 years. Her styles vary between progressive, driving Psytrance and Techno sometimes mixing up many different genres in one set. Member of Free-Spirit Records (http://www.free-spiritrecords.com), resident with Oneness & Cohesion (http://www.myspace.com/cohesionparty) have played alongside the likes of Infected Mushroom, Astrix, John OO Fleming, Juno Reactor, Tactic Mind, Ultravoice, Journey, Tron, Braincels, Compressor, Chris Liberator, Zen Mechanics to name but a few, and in venues such as indigO2 @ London (Antiworld) Brixton Academy @ London (Psychedelic Academy - Antiworld), Luna Club in Haifa, Israel (Tactic Recs Label Party) Turnmills @ London (Antiworld), The Fridge@ London (Colours, Logic). Two years ago my psytrance took me to Lake Deczno in my homeland Poland, where I was the only female artist to play at the Ramada Festival. I returned to Poland last year for the Common Festival on 11th July.
★★★★★ PROZAK ★★★★★
Has been DJ'ing for the past 15 years and is truly in a class of his own. There simply isn't a venue he hasn't played at. Not content with just DJ'ing. He also produces engineers & re-mixes at his studios "LG4" in London, UK. With current residencies around the globe. Plus running his own promotions in London, "Cohesion" & "Event Horizon". Having run numerous successful trance record labels in the past has in the last 3 years turned his attention to psychedelic sounds. Recently Prozak has joined forces with Free-Spirit Records UK plus the "Logic" Organization. Famed for his cutting edge full on psychedelic trance, electro & progressive sets. Never miss a boom.
▀▀▀▀▀▀▀▀▀▀▀▀▀▀▀▀▀▀▀▀▀▀▀▀▀▀▀▀▀▀▀▀▀▀▀
ૐૐૐ--FREE-SPIRIT RECORDS--ૐૐૐ
If you haven't heard of the UK trance label Free-Spirit by now, you soon will... the brainchild of Milan born label manager, Jay OM. Since the late '80's, Jay has spent years djing/promoting at some of the biggest clubs and trance festivals in London, the UK, and the rest of Europe. In 2004, he conceived the vision of a network of like-minded artists in the psy-trance and ambient genres, all working to promote themselves and each other under one banner and thus the Free-Spirit label was born... Originally intended to focus on artist management, the label's skyrocketing success, combined with the enthusiasm of Jay, the artists, and fans, enabled Free-Spirit to outgrow its horizons. Free-Spirit continues to build a collective of artists and djs from the UK, Europe and worldwide, aiming to create and provide access to a combined set of resources not available to them as individuals, making it just a little easier for them all to concentrate on what they truly love, the music!
Free-Spirit burst headlong upon the global trance scene with their maiden compilation, "Brahamaputra" in October 2006, even attracting the attention of artists like previous voted 4 in DJ Mags TOP 100 DJs, Christopher Lawrence, who already is rocking Free-Spirit tracks on his own compilation releases. Although still in the label's infancy, the lineup of artists on this smashing compilation speaks for itself... and now, already in the works is Free-Spirit's sequel compilation to "Brahamaputra", "Eupsychia", as well as M-Klome's astounding first solo album release, and in the not too distant future, a debut rocker by Journey (aka Jay OM) himself. This label and these artists work hard to bring you albums that are guaranteed to stay fresh over many rotations and mixsets. Free-Spirit has a lot on their platter in the next few months... turn on and tune in now to their upcoming fresher-than fresh trance sounds!
Free-Spirit also run their own successful events, one of which is the Implosion parties, which are now regular occurrences in various venues around Brixton, London.
--RELEASES—
Free-Spirit Vol. 5 - Mutual Reality Compiled by Jay OM
(Free-Spirit Recs., Feb. 2010)
Ital "The World of Spirit Plants"
(Free-Spirit Recs., June 2009)
Free-Spirit Compilation Vol.4 :: "Plexure" :: Compiled by DJ Marchello
(Free-Spirit Recs., Jan. 2009)
The Man Who Sold The Time - Journey
(Free-Spirit Recs., Jan. 2009)
SONIC ACCUPUNCTURE- Star~Trip - V/A Free-Spirit Vol.3 Neophilia
(Free-Spirit Recs., June 2008)
TJ SOURCE - V/A Free-Spirit Vol.3 Neophilia
(Free-Spirit Recs., June 2008)
ETERNAL SUNSHINE - V/A Free-Spirit Vol.3 Neophilia
(Free-Spirit Recs., June 2008)
THE THIRD FACE OF THE MEDAL
(Mutigen Records May 2008)
SINGHVI - V/A Revolve Magazine
(Revolve 2008)
EXPERANTIA - V/A Free-Spirit Vol2. Eupsychia
(Free-Spirit Recs., May 2007)
CROUCH END - Star~Trip - V/A Free-Spirit Vol2. Eupsychia
(Free-Spirit Recs., May 2007)
DOLLAR - Star~Trip - V/A Free-Spirit Vol1. Brahmaputra
(Free-Spirit Recs., Oct 2006)
SPOTLESS MIND - V/A Free-Spirit Vol1. Brahmaputra
(Free-Spirit Recs., Oct 2006)
Booking Opportunities:
We are always looking for quality promoters and production crews worldwide to host Free Spirit CD Release Parties and also Free Spirit Records Label parties. If you are interested, please contact Jay at Free Spirit (jayom@free-spiritrecords.com) to discuss what's on offer.
coming up soon...
Solar Spectrum (EP)
Monastic Squid (EP)
Solar Spectrum (Album)
Braincell (EP)
Journey - The Ripple Effect (2nd Solo Album)
In Lak Ech (EP)
Free-Spirit Vol.6
Join Implosion on Facebook
https://www.facebook.com/group.php?gid=19796590882
Join the Cohesion event on Facebook
https://www.facebook.com/event.php?eid=351051827837&ref=mf
Join Free-Spirit Records on Facebook
https://www.facebook.com/group.php?gid=4035738066
Visit us at:
www.free-spiritrecords.com
Free-Spirit do not in any way participate in spamming activities. Please do not report us as spam as this will result on us being blacklisted. Thank you. Peace & Light. Free-Spirit.