Cohesion- Psy Independence
10pm-10am Saturday 4th July 2009
@ The 414, Coldharbour
Lane, Brixton, SW9, London, UK
*
Half way through the year and cohesion is growing strong.
The June party was simply incredible. Thank you so much everyone who made it
and it was certainly special. Thanks to Pogo (Nano Records) for his excellent set,
and many thanks to Oontz for ending the party with a bang
*
The next Cohesion is on the 4
th
of July.
So this is our PSY Independence J
With special guests
Mish
Mash of
http://www.misztifiedmind.net
Mif
from
http://www.myspace.com/mutagenrecords
Mr Mush
from
http://www.free-spiritrecords.com
Plus residents
Sati
http://www.myspace.com/_sati_
Prozak
http://www.myspace.com/djprozakuk
Miguel
http://www.myspace.com/manthedj
*
The 414 has a roof terrace for those of you who wish to smoke!
Free Psy Mixed CD for anyone on the paying guest list!!
*
£5 before midnight if full names emailed before 8pm on sat 4th July.
£8 before 12 / £12 after
...
-------------------------------------------------------------------------------------------
Phone: +44 (0) 7956 472 558
Email:
cohesionparty@googlemail.com
Web:
http://www.myspace.co/cohesionparty
-------------------------------------------------------------------------------------------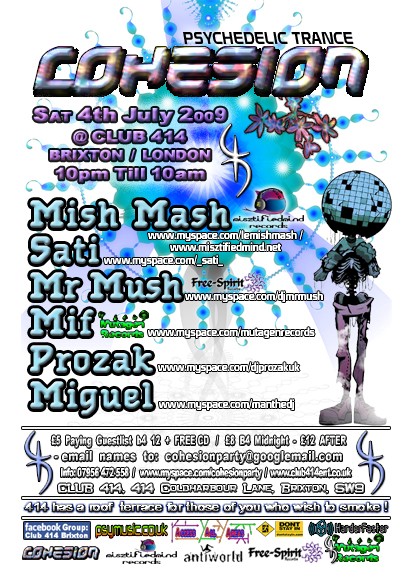 Look forward to seeing you there