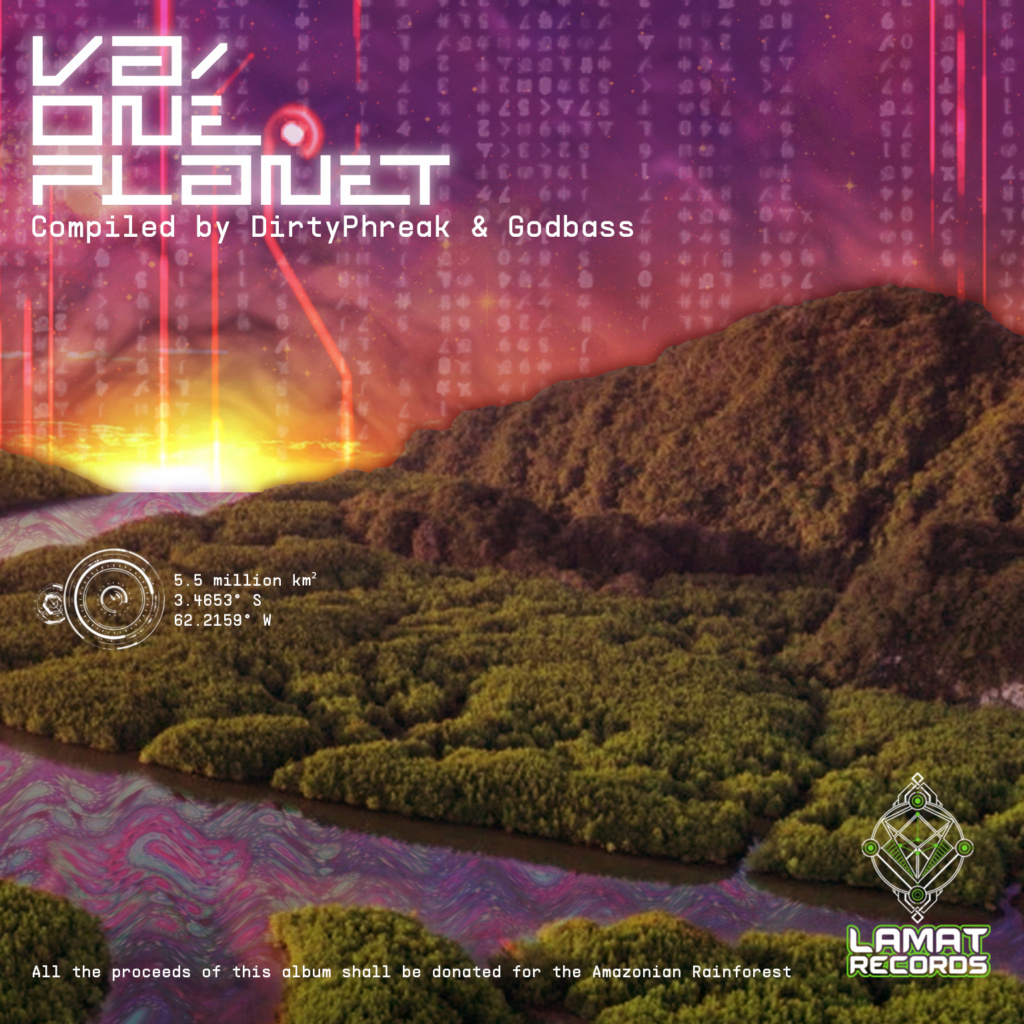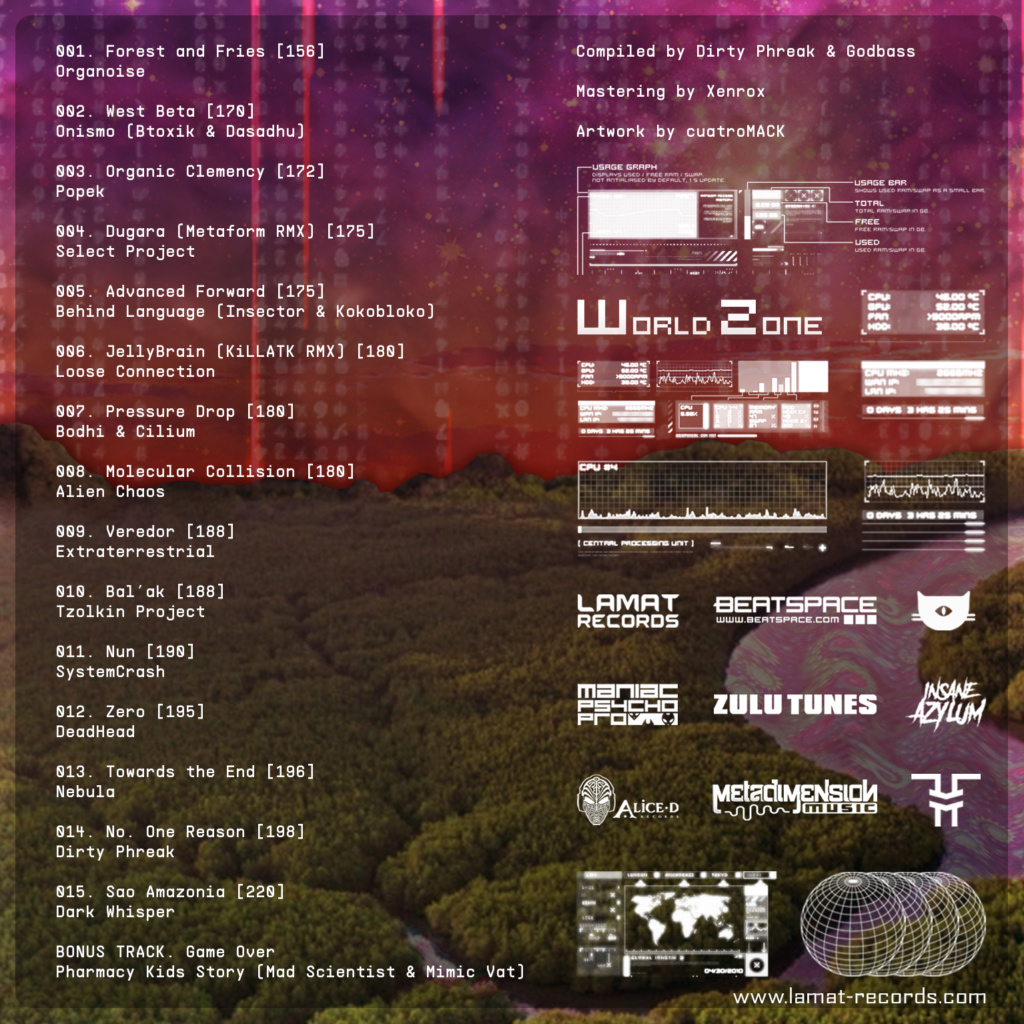 Lamat Records Presents
VA – One Planet Compiled by Dirty Phreak & Godbass -  OUT NOW !! 
Label: Lamat Records
CD:  VA - One Planet
Format: Digital CD
Compiled By: Dirtyphreak & Godbass
Mastered By:  Tom Arahat
Artwork By: Cuatro Mack
Distributed By: Amazon , Bandcamp, Beatspace, Spotify, I tunes, Psyshop 
The single biggest threat to our planet is the destruction of our beloved habitat and along the way the loss of precious life. This compilation is our humble and kind effort to reach a balance where people, habitat and wild- life can co-exist.
The Earth is all we have in common. What we stand for, is what we stand on. There is no Planet B so let's try to do our bit and contribute for the well-being of our environment.  All of the proceeds of this album will be donated for this very humble purpose.  
Track list 
01) Organoise - Forest and Fries – 156 BPM
02) Onismo (Btoxik & Dasadhu) - West beta 170 BPM
03) Popek- Organic Clemency - 172 BPM
04) Select Project - Dugara Metaform rmx – 175 BPM
05) Behind Language (Insector & Kokobloko) - Advanced Forward – 175
06) Loose Connection - Jelly Brain (Killatk Rmx) – 180 BPM
07) Bodhi & Cilium - Pressure Drop – 180 BPM
08) Alien Chaos - Molecular Collision – 180 BPM
09) Extraterrestrial -  Veredor – 188 BPM
10) Tzolkin Project. - Bal'ak 188 BPM
11) System Crash - Nun - 190 BPM
12) Deadhead – Zero 195 BPM
13) Nebula – Towards The End – 196 BPM
14) Dirty Phreak - No. One Reason - 198 BPM
15) Dark Whisper - Sao Amazonia 220 BPM 
Bonus Track
Pharmacy Kids Story (Mad Scientist & Mimic Vat) - Game Over  
Buy at =
Code:

https://lamat-recs.bandcamp.com/
Lamat Records Website:
www.lamat-records.com
CD Description 
DISCLAIMER: All the proceeds of this album shall be donated for the benefit of the Amazon. 
Lamat Records is honored and thrilled to present VA One PLANET compiled by Dirty Phreak & Godbass. In Association with Alice-D Production, Fantazy Records, Insane Azylum ManiacPsychoPro, OVNI Records &  ZuluTunes. 
By the power bestowed upon us, together we have had the great honor and privilege of combining the genius minds of the finest artist in the world and collaborated in assembling this beast of 15 tracks album that is bound to take you on the journey of a lifetime! Enter the shamanic dimensions as these slamming tracks wait for you.  
The lungs of our planet are burning and this is our effort to do our bit. There is no Planet B. 
Sample Previews coming soon 
If you enjoyed this CD show us some love by liking us on facebook
Code:

https://www.facebook.com/dirtyphreakgt
Code:

https://www.facebook.com/LamatRecordss